Where to View my Artwork
Although most of my paintings are normally quickly sold or are done on commission (therefore never available to display) I do frequently have a few paintings on view at each of two convenient locations in the centre of Darwen, so if you wish to have a look at some of my artwork on display, there are a couple of simple options.
At Deli Carlo there will regularly be one or two paintings with an 'Italian theme', while at the Sweet Vintage Tea Room, I display local / Darwen themed artwork.
The shops are ideally situated on either side of the front market hall entrance as you will see from the image below and both shops are in any event, well worth visiting if you live in, or come to Darwen at any time. You will get a warm, homely welcome as well as a choice of locally made and continental delicacies and beverages ... all while (should you wish) taking a leisurely look at a selection of my artwork. Surely, worth a visit?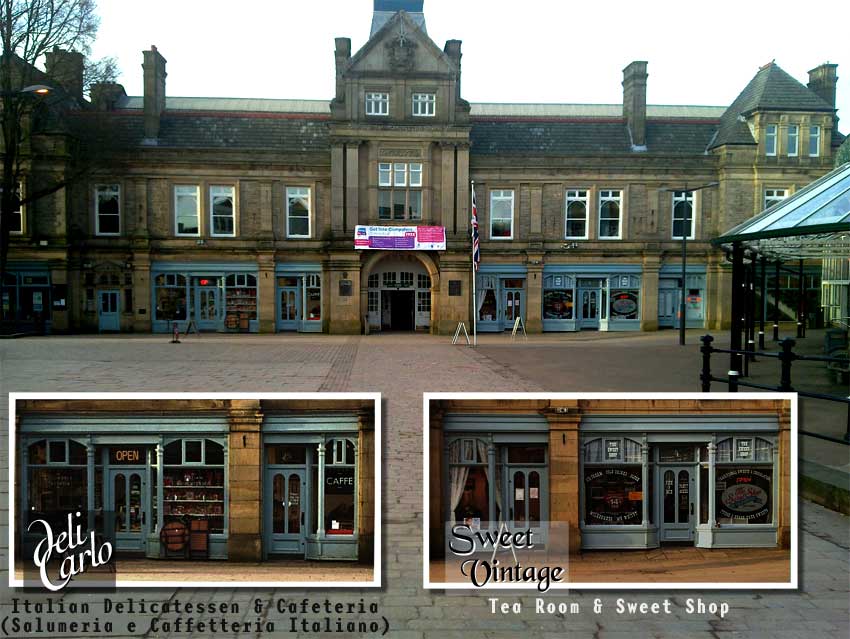 You can often view a selection of available artwork by Anthony Robshaw in Darwen, at Deli Carlo and the Sweet Vintage Tea Room, situated either side of the market hall front entrance
If a specific painting that you wish to see is available for sale (as indicated in the online gallery) but not on display at either location (as would be the case with general artwork) please do contact me directly to arrange a convenient viewing. If this is a viewing prior to an intended purchase, of course there is no need to worry about making the purchase anyway, as any painting ordered via the website can be returned in original condition for a full refund if you change your mind. For further details see the buying section and full terms and conditions.
I may occasionally also show available paintings in locally arranged exhibitions, latest news of which will generally be included on the home page of this website. I do not, as a rule, have many available for sale at any one time, however, and the vast majority of my work is in the hands of private collectors. It's very rare that I would gather and exhibit previously sold works together with available works, but of course, some of them have been archived and can be seen in the online gallery.